Yes, adhesive grab bars can be safe if installed properly. Adhesive grab bars are becoming increasingly popular as they are a quick and easy solution for enhancing bathroom safety.
These grab bars are designed for people who need extra support when using the bathroom, particularly seniors or individuals with mobility issues. With their easy installation process, they may seem like a convenient option. However, the question of their safety still lingers in many people's minds.
In this article, we will examine the safety of adhesive grab bars and what you need to know before investing in them. We will also look at their benefits, drawbacks, and how to choose the right type for your bathroom.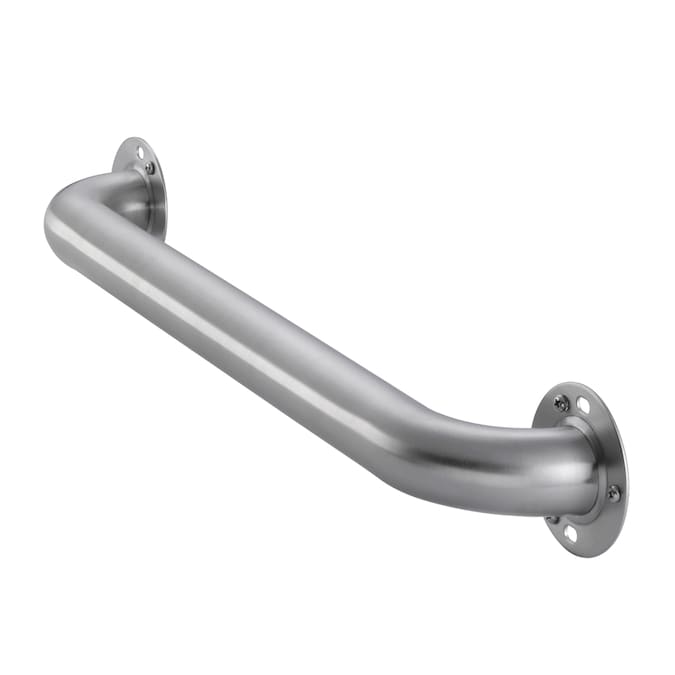 Credit: www.lowes.com
The Science Behind Adhesive Grab Bars
Adhesive grab bars offer a convenient solution for those who require support in the bathroom or shower. These bars are composed of strong and durable materials, providing the necessary stability for users. The adhesive component of these bars allows for easy installation without the need for drilling or screwing into the wall.
The strength of the adhesive will depend on the surface it is being attached to, so it is important to follow the instructions carefully during installation. With proper use and installation, adhesive grab bars can provide a reliable and safe support system for individuals with mobility concerns.
Pros Of Adhesive Grab Bars
Adhesive grab bars are safe and sturdy. The convenience and versatility they provide is unmatched. They can be mounted anywhere and do not require a professional to install, making them extremely cost-effective. Adhesive grab bars offer an added sense of security and stability without damaging the walls.
They come in different colors to match the décor of the bathroom or any other room where they are needed. Adhesive grab bars are perfect for individuals who need assistance with balance, or those who want to prevent slips and falls.
They can be used in the shower, bathtub, or anywhere else where extra support is necessary. Adhesive grab bars are an excellent addition to any home and offer a reliable and secure solution for those in need.
Cons Of Adhesive Grab Bars
Adhesive grab bars are a popular choice for those who need support in the bathroom. However, there are potential dangers associated with using them. Seniors and individuals with mobility difficulties may be at risk of falls if the adhesive is not strong enough or if the grab bar is not installed properly.
Additionally, moisture and humidity can impact the effectiveness of adhesive grab bars, making them more likely to detach and cause injury. To ensure safety, it's important to consider alternatives such as suction cup or wall-mounted grab bars. It's critical to assess the types of grab bars that can provide the necessary support without compromising your safety.
Are Adhesive Grab Bars Safe?
Adhesive grab bars are a popular choice for those who need assistance in the bathroom or shower. However, the question remains – are they safe? Industry standards for adhesive grab bars require them to support up to 250 lbs, and scientific research has shown that they can be just as secure as traditionally mounted grab bars.
Proper installation and maintenance are essential to ensure their safety – the surface must be clean and dry before installation, and the bars should be checked regularly for signs of wear or loosening. Overall, adhesive grab bars can be a safe and convenient option for those in need of support, as long as they are installed and maintained properly.
Frequently Asked Questions For Are Adhesive Grab Bars Safe
Are Adhesive Grab Bars Safe For Bathtubs And Showers?
Yes, when installed properly, adhesive grab bars can provide a secure grip and extra support in bathrooms. However, it is essential to choose high-quality adhesive grab bars, follow the manufacturer's instructions, and periodically test the strength of the adhesive.
How Do I Install Adhesive Grab Bars Safely?
To install adhesive grab bars securely, first, ensure the surface is smooth and clean; avoid installing over tiles or textured surfaces. Follow the manufacturer's instructions, and use a level to ensure that the grab bar is mounted evenly. Before use, test the adhesive's strength periodically.
What Is The Weight Capacity Of Adhesive Grab Bars?
The weight capacity of adhesive grab bars varies depending on the manufacturer and the bar's size. Some grab bars may support up to 500 pounds, while others may support less than 200 pounds. Always check the product specifications before purchasing.
Can I Remove Adhesive Grab Bars Without Damaging My Walls?
Yes, most adhesive grab bars are designed to be removable without damaging walls or tiles, but it depends on the type of adhesive. Some grab bars come with a special removal tool, while others require heat to soften the adhesive before removing.
Follow the manufacturer's instructions carefully.
Can Adhesive Grab Bars Be Used In Other Areas Besides The Bathroom?
Yes, adhesive grab bars can be used in other areas where extra support is needed, such as near stairs, in the kitchen, or by a bed. However, always ensure that the surface is clean and smooth, and follow the manufacturer's instructions for installation.
Conclusion
Overall, adhesive grab bars can be a convenient and practical solution for those who need some extra stability in the bathroom or other areas of their home. However, as we have seen, they are not fail-safe and there are risks that need to be considered.
Nonetheless, as long as you follow the advice given in this post and choose a high-quality product that can withstand your weight and adhere well to the surface you are applying it to, there is no reason why you should not benefit from using adhesive grab bars.
Ultimately, it is up to you to weigh up the pros and cons and make an informed decision about whether they are the best option for your needs. Whether you decide to go for adhesive grab bars or another type of safety aid, we hope that this post has been helpful in guiding your decision.