To caulk undermount kitchen sink, first, clean the area thoroughly and allow it to dry. Apply a silicone caulk bead around the edge of the sink.
Undermount kitchen sinks are popular for their sleek design and ease of cleaning. However, improper caulking can lead to leaks and water damage. To ensure proper caulking, start by cleaning the area around the sink with a mild cleaner and letting it dry completely.
Next, apply a bead of premium quality silicone caulk around the edge of the sink, making sure to cover any gaps or seams. Smooth out the caulk with a caulking tool or your finger and let it dry for the recommended time before using the sink again. A well-done caulking job can make your undermount sink last for years without any leaks.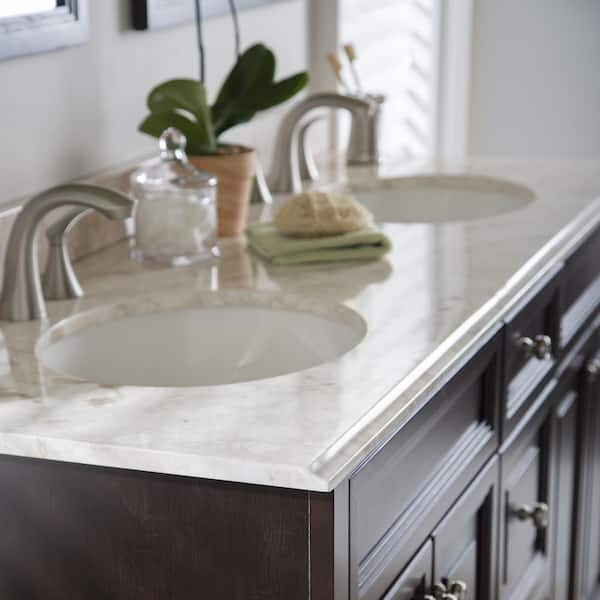 Credit: www.homedepot.com
Frequently Asked Questions On Caulking Undermount Kitchen Sink
What Is The Purpose Of Caulking An Undermount Sink?
Caulking an undermount kitchen sink prevents water from seeping into the sink's underside, preventing mold growth and water damage to your countertops and cabinets.
How Often Should You Check Your Undermount Kitchen Sink'S Caulking?
Check your undermount kitchen sink's caulking every six months. If you notice any gaps or cracks, it's time to re-caulk.
Can I Caulk My Undermount Kitchen Sink Myself?
Yes, caulking an undermount kitchen sink is a relatively easy diy task. You'll need some basic tools and materials, including caulk, a caulk gun, and a putty knife.
What Type Of Caulk Should I Use To Seal My Undermount Kitchen Sink?
Choose a silicone-based caulk specifically designed for kitchen and bathroom use. Avoid using acrylic or latex caulks that can shrink and crack over time.
How Long Does It Take For Caulk To Dry Before Using My Sink?
The drying time for caulk depends on the brand and type you use, but most silicone-based caulks take 24 hours to cure fully. Avoid using your sink until the caulk is completely dry.
What Should I Do If My Undermount Sink'S Caulking Is Already Damaged?
If your sink's caulking is already damaged, moldy, or deteriorating, you'll need to remove the old caulking and apply a new layer. Follow our step-by-step guide to re-caulk your undermount kitchen sink.
Conclusion
After caulking your undermount kitchen sink, not only will you be adding to your kitchen's aesthetics, but you'll be protecting it from water damage, mold, and mildew. From ensuring that the surface is dry before applying the caulk to using high-quality silicone, these tips will help ensure a seamless and long-lasting caulking job.
Remember that caulking your sink doesn't have to be a daunting task; it can be a simple and quick diy project that adds a lot to your kitchen's functionality and appeal. With the proper tools and technique, you'll be able to confidently tackle this project on your own.
So take the time to learn how to caulk your undermount kitchen sink correctly, and you'll enjoy a beautiful and functional kitchen for years to come.