Suction shower grab bars are not recommended for people who rely on them for support while showering. They can easily come loose and cause harm, so they should not be relied upon for full-body weight support.
Shower grab bars provide support and stability for people who have difficulty standing or balancing while they shower. These devices can be fastened to the shower wall, providing a secure and reliable grip. However, some people may be tempted to use suction shower grab bars, which can stick to the wall without tools or hardware.
While these may seem like a convenient solution, suction grab bars are not recommended for individuals who rely on them for full-body weight support. They can easily come loose, causing the individual to fall and suffer injury. Therefore, it is essential to choose a permanent grab bar that is securely mounted to the shower wall for maximum safety and support.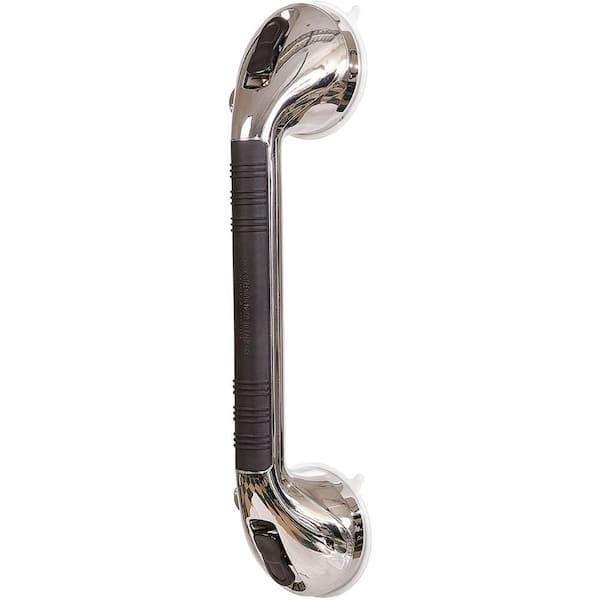 Credit: www.homedepot.com
Understanding The Importance Of Shower Safety
Showering may seem like a harmless daily routine, but it can be dangerous if proper precautions are not taken. A slippery shower floor combined with a wet and soapy body can result in falls, leading to serious injuries. But you can ensure your safety in the shower with suction grab bars.
These are easy to install and provide a stable surface for grip. When purchasing suction grab bars, factors such as weight capacity and the type of surface it will be attached to should be considered. With the right grab bar, you can enjoy a safer and more comfortable shower experience.
Examining Suction Grab Bars As A Solution For Shower Safety
Suction grab bars are one of the popular solutions for shower safety, but how safe are they? Suction grab bars are temporary fixtures that can be easily installed and removed without drilling. They come in various types such as straight bars, curved bars, and handhelds.
When selecting the right suction grab bar, consider the weight capacity, bar length, and surface type. The benefits of using suction grab bars include portability, affordability, and versatility. However, potential drawbacks include unreliable adhesion, limited weight capacity, and lack of permanence.
Suction grab bars can be a great option for temporary safety solutions, but should not replace the necessity for permanent installation by a professional.
Proper Installation And Maintenance Of Suction Grab Bars
Suction shower grab bars are an effective aid to preventing bathroom injuries. However, it is important to follow the right installation steps to ensure safe usage. Begin by cleaning the surface and pressing the bar firmly, following manufacturer's guidelines. Avoid common mistakes such as uneven surfaces, weak suction or loose grip.
Regular maintenance prevents accidents so make sure to inspect firmly attached bars, reposition any loose fitting or replace worn out cups. Proper installation and maintenance are key factors to keeping suction grab bars secure and safely helping seniors and the disabled maintain their independence while showering.
Alternative Solutions For Shower Safety
Suction shower grab bars provide a useful level of safety for those who need extra support in the shower. However, when it comes to their reliability, there is a level of uncertainty. Alternative solutions include non-suction grab bars, which offer a more secure grip.
Another option is to consider additional safety measures such as using slip-resistant mats or benches. It's also important to compare and contrast suction grab bars with other options, like screw-in grab bars, to determine the best fit for your specific needs.
Ultimately, the goal is to provide a safe and comfortable experience in the shower for individuals who may need a little extra support.
Frequently Asked Questions For How Safe Are Suction Shower Grab Bars
How Strong Are Suction Shower Grab Bars?
Suction shower grab bars can hold up to 250 pounds, depending on the quality and brand of the product. It's important to ensure the surface where the bar is being applied is clean and smooth to ensure maximum suction strength.
Can Suction Shower Grab Bars Damage Tiles?
If not installed and removed properly, suction shower grab bars can damage tiles. Be sure to only install on smooth surfaces and follow manufacturer instructions. Remove gently and clean the surface after use to avoid damage.
How Long Do Suction Shower Grab Bars Last?
The lifespan of suction shower grab bars depends on quality, usage, and maintenance. On average, they last around two years before needing replacement. Check for wear and tear regularly, and replace if necessary to maintain safety.
Can Suction Shower Grab Bars Be Used On Any Surface?
Suction shower grab bars work best on smooth non-porous surfaces. Avoid using on porous surfaces such as natural stone, wood, or painted surfaces. Also, avoid using on uneven surfaces. Always follow manufacturer instructions.
Are Suction Shower Grab Bars As Safe As Permanently Installed Grab Bars?
While suction shower grab bars can provide temporary support, they are not as sturdy as permanently installed grab bars. Permanently installed grab bars are much safer and can hold more weight. If possible, consider permanent installation.
Conclusion
After analyzing the information above, it's evident that suction shower grab bars are a safe addition to any bathroom. Despite some concerns around their stability and safety, it's clear that if used correctly, suction shower grab bars can provide a great level of support for seniors, children, and anyone with mobility challenges.
However, it's important to choose high-quality, heavy-duty suction bars, and always follow the manufacturer's installation instructions. It's also a great idea to test the bars before use and inspect them periodically for any signs of wear and tear. By taking these steps, suction shower grab bars can provide a cost-effective, portable and easy-to-use option for those in need.
So why not consider installing one in your own bathroom, and enjoy a safer and more comfortable shower experience today.