To caulk a stainless steel kitchen sink, first clean and dry the area. Then apply the caulk to the joint and smooth it out with a caulk smoothing tool.
A caulked kitchen sink not only looks aesthetically pleasing but also prevents water from seeping into the joint and damaging the countertop or cabinet underneath. Caulking a stainless steel kitchen sink is an easy diy process that can be done in a few simple steps.
In this article, we will guide you through the process of caulking a stainless steel kitchen sink from start to finish. From cleaning the sink to applying the caulk and smoothing it out, we will cover all the necessary steps to ensure that your kitchen sink is sealed off perfectly. So, let's get started!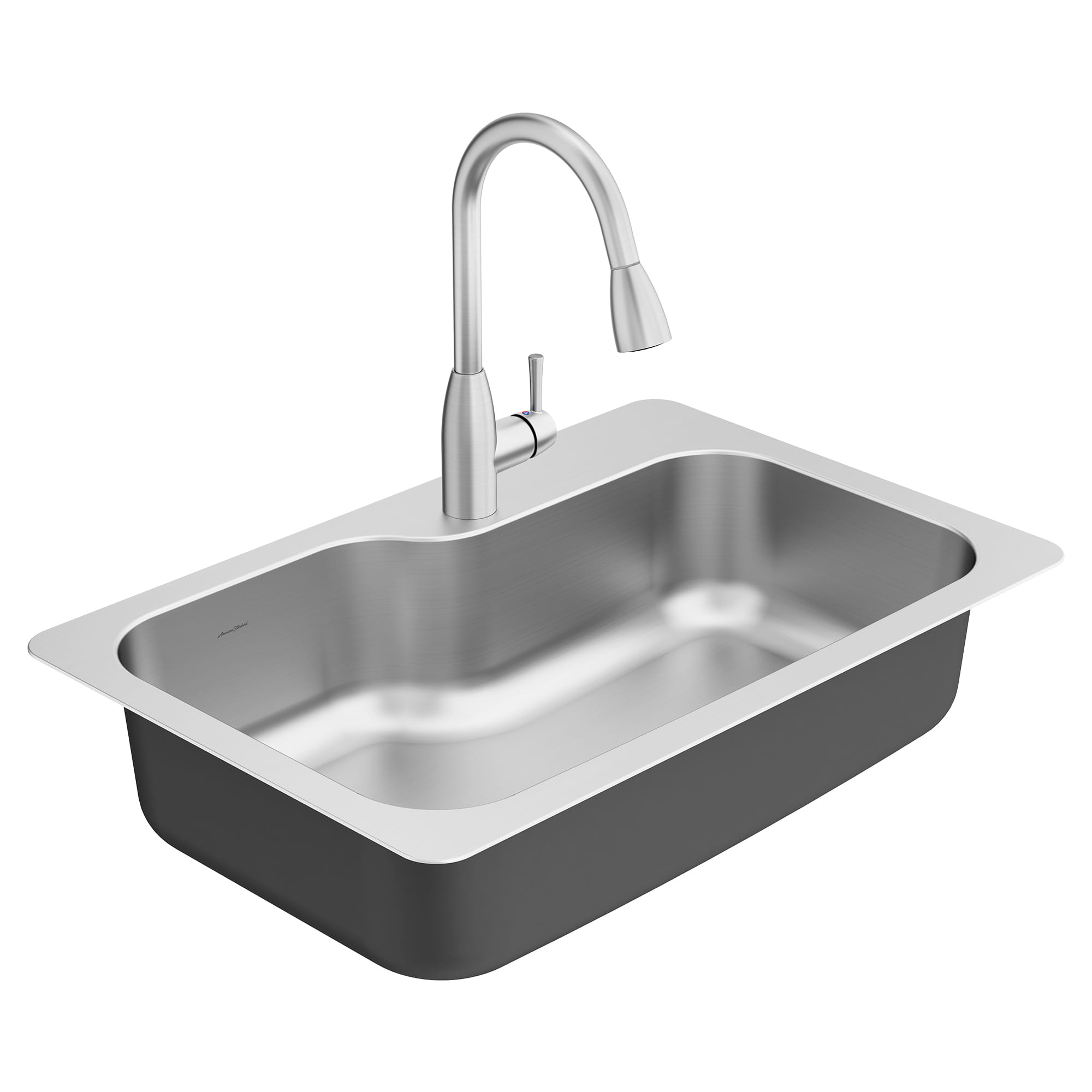 Credit: www.americanstandard-us.com
Why Caulking Your Sink Is Important For Revamping Your Kitchen
Caulking your stainless steel kitchen sink is an essential step for kitchen revamping. Understanding the importance of caulking your sink can save you from a headache in the future. Caulking can prevent mold and mildew from building up in your kitchen.
Furthermore, it can protect your countertops from water damage. Properly caulking your sink can extend the life of your sink, saving you from costly replacements. Remember to use a high-quality caulk to ensure a long-lasting seal. Don't skip the caulking step while revamping your kitchen.
It can save you time and money in the long run.
What You Will Need
To caulk a stainless steel kitchen sink, you will need several tools. The required tools include a caulk gun, caulking, caulk remover, razor blade, and rubbing alcohol. Optional tools include painter's tape and gloves. It is essential to have all the tools on hand before beginning the process to ensure a smooth and successful outcome.
The caulk gun is used to apply the sealant, while a razor blade and caulk remover are helpful to clean excess caulk. Rubbing alcohol can be used to wipe down the surface to remove any debris. Following these guidelines will help you successfully caulk your stainless steel kitchen sink and prevent any water damage to your home.
Preparing Your Sink For Caulking
Before you start caulking a stainless steel kitchen sink, you must prepare it properly. Removing the old caulk is the first and most crucial step. You can use a caulk remover or a razor blade for this. Make sure to clean the area thoroughly with rubbing alcohol.
Applying painter's tape around the sink can prevent any accidental spills. Finally, make sure to clean the area once again before starting the caulking process. Following these steps will ensure a durable and long-lasting caulking job on your stainless steel kitchen sink.
How To Caulk Your Stainless Steel Sink
Caulking your stainless steel sink is an easy and essential task to keep your kitchen looking great. Begin by loading your caulk gun and cutting the tip to the correct size. Next, start caulking, applying a steady and even amount of caulk around the sink.
Smooth out the caulk using either your fingers or a caulking tool. Remember to work quickly before the caulk dries. Finally, wipe any excess caulk with a damp cloth and enjoy your newly sealed sink. With a little practice, you can perform this task like a pro.
Keeping your sink caulked will prevent water from seeping underneath, preventing mold and mildew growth.
Frequently Asked Questions Of How To Caulk A Stainless Steel Kitchen Sink?
What Is Caulk, And What Is It Used For In Sinks?
Caulk is a waterproof, flexible sealant used to seal gaps between two surfaces. In sinks, it's used to seal the opening between the sink and the countertop or wall to prevent water from seeping into the joints.
What Type Of Caulk Should I Use For My Stainless Steel Sink?
For a stainless steel sink, use a silicone-based caulk that's specifically formulated for use with stainless steel. This type of caulk is resistant to water, mildew, and mold and doesn't shrink or crack over time.
How Do I Prepare My Sink To Be Caulked?
First, clean the sink and the surrounding area thoroughly with a non-abrasive cleaner. Allow it to dry completely. Then, remove any old caulking with a caulk remover tool, and fill any gaps or holes with wood shims or foam backing rod.
How Do I Apply The Caulk To My Kitchen Sink?
Load the silicone caulk into a caulking gun and cut the tip of the nozzle at a 45-degree angle. Then, apply a steady, continuous bead of caulk around the perimeter of the sink, smoothing it out with a caulk smoothing tool or your finger.
How Long Do I Need To Let The Caulk Dry Before Using My Sink?
Most silicone caulk takes around 24 hours to dry completely. However, you can usually use your sink for light activities like washing dishes after 8-12 hours. Avoid getting the caulk wet for at least 24 hours after application.
Conclusion
As we conclude this guide on how to caulk a stainless steel kitchen sink, it's worth noting that the process is quite simple and straightforward. With the right tools and materials, this task is doable for anyone, even if you've never tried it before.
Remember to thoroughly clean the sink before applying caulk, and let it dry completely. Use enough caulk to ensure there are no gaps, but not so much that it oozes out. Finally, smooth the caulk with a caulk smoother or a wet finger for a professional finish.
Proper caulk application can improve the appearance, cleanliness, and functionality of your kitchen sink. So, go ahead and try it out! You'll be pleasantly surprised at how easy it is to achieve fantastic results!