To put shelf liner in cabinets, first, remove all items from the shelves and measure the interior of the cabinet. Cut the shelf liner to fit the measurements and place it on the shelf, smoothing out any wrinkles or bubbles.
Shelf liners are beneficial in keeping cabinets clean and tidy. They prevent dirt and spills from penetrating the shelves, which can cause stains or damage. Moreover, they also add a stylish look to your cabinets by providing a smoother surface and a pop of color or pattern.
Putting shelf liner in cabinets is an easy task that can be completed in a few steps. In this article, we will guide you through the process of measuring and cutting the liner, preparing the cabinet, and applying the liner, making your cabinets more functional and attractive. Keep reading to learn how to put shelf liner in your cabinets.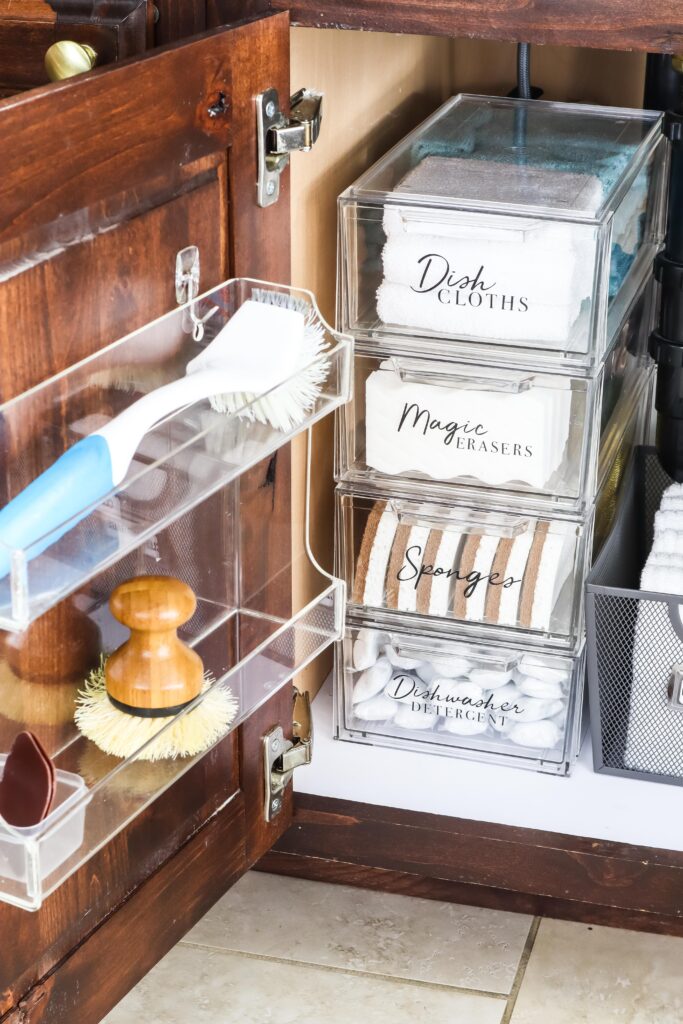 Credit: practicalperfectionut.com
Why Shelf Liners Are Essential For Cabinets
Shelf liners are a must-have for your cabinets, protecting your surfaces from scratches, stains, and spills. But did you know they have other benefits too? By using shelf liners, you can easily wipe away messes and keep your cabinets looking brand new.
They can also help reduce odors and mold growth. With a variety of materials and designs available, you can customize your liners to fit your style and needs. Plus, they are easy to install and can be cut to any size you require.
Don't take chances with your cabinets – invest in shelf liners for an easy, clean, and protected storage solution.
Factors To Consider Before Purchasing Shelf Liners
Before purchasing shelf liners, consider the size of the cabinet. Different material options are available and each has its pros and cons. Some of the materials to choose from are cork, vinyl, and adhesive liners. Cork liners are eco-friendly and durable but may not be ideal for heavy items.
Vinyl liners, on the other hand, are affordable and easy to clean but may not be environmentally friendly. Lastly, adhesive liners are easy to use but may leave residue when removed. When selecting a liner, ease of installation is also important.
Make sure to follow the manufacturer's instructions to ensure proper installation. By considering these factors, you'll be able to find the best shelf liner in cabinets that will suit your needs and preferences.
How To Install Shelf Liners In Cabinets
Installing shelf liners in your cabinets is easier than you think. Start by removing any previous liners carefully. Measure the interior of the cabinet and cut the liner to fit perfectly. When placing the liner, make sure it lays evenly and reaches all corners.
This will protect your shelves from wear and tear. With these simple steps, you can enhance the look and functionality of your cabinets. Remember, shelf liners come in various textures and colors to suit your decor preferences. Follow these guidelines and improve your organization at home.
Tips To Maintain Shelf Liners
Shelf liners are a great way to protect your cabinets from damage. To keep them functional for a long time, it's important to maintain them regularly. Start by cleaning them regularly to prevent buildup of dirt and stains. You can use warm soapy water or a mild cleaner to wipe them clean.
Make sure to dry them thoroughly before putting them back into your cabinets. Additionally, it's recommended to replace your liners every 6 to 12 months, depending on the level of use. This will ensure that your shelves stay protected and hygienic.
Remember to measure your shelves accurately before buying new liners to make sure that they fit snugly. By following these tips, you can prolong the life of your shelf liners and keep your cabinets looking clean and well-maintained.
Frequently Asked Questions On How To Put Shelf Liner In Cabinets?
How Do You Apply Shelf Liner In Cabinets?
To apply shelf liner in cabinets, measure the shelf, cut liner to size, and remove any residue. Then, peel off the backing, and smooth the liner onto the shelf, working out any air bubbles as you go.
What Is The Best Material For Shelf Liners?
The best materials for shelf liners are those that are durable and easy to install. Cork, rubber, vinyl, and plastic liners are all great options for protecting your cabinet shelves from damage and spills.
Can I Remove Shelf Liner From Cabinets Easily?
Yes, removing shelf liner from cabinets is easy. Simply peel off the liner, and use a mild solvent such as rubbing alcohol or vinegar to remove any adhesive residue. Allow the cabinet to dry completely before applying a new liner.
Conclusion
By now, you have learned how to put shelf liners in cabinets to add some extra flair and protect your cabinets. The simple steps of measuring the cabinets, cutting the liner to size, and applying it, can go a long way in transforming the look of your kitchen or bathroom cabinets.
With the various options available, you can choose a liner that is not only functional but also adds a decorative touch to your cabinets. It's also important to note that maintenance is key to ensuring longevity of the liners. Regular cleaning and replacement when necessary will maximize their benefits.
So why not get started today and take your cabinets to the next level!