To use a hydraulic car jack, first locate the lift points on your car and position the jack underneath. Pump the handle to raise the car and place jack stands beneath for safety.
Using a hydraulic car jack is a simple and straightforward task. However, it is critical that you do it safely. A hydraulic jack is commonly used to elevate a car for repair or maintenance purposes. It works by using pressurized oil to lift heavy loads with minimal effort.
The most crucial thing is to ensure that you identify the appropriate lift points on your vehicle before using the jack. This article provides you with the essential steps you should follow when using a hydraulic car jack to lift your vehicle safely. Read on and learn how to use a hydraulic car jack like a pro!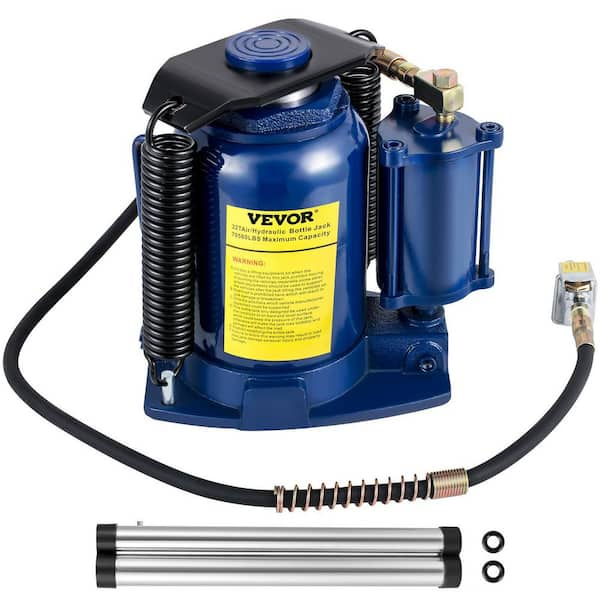 Credit: www.homedepot.com
Understanding Hydraulic Car Jacks: A Comprehensive Guide
Hydraulic car jacks have been around since the early 1900s and have become a vital tool in any car owner's kit. They work through the use of oil, which is forced through cylinders to lift and lower your car. There are various types of hydraulic jacks, including the bottle jack and floor jack.
The hydraulic jack has many advantages, including ease of use, durability, and the ability to lift heavier vehicles. To use a hydraulic jack, you'll need a few essential tools, including wheel chocks, gloves, and a hydraulic jack stand. With this comprehensive guide, you'll be able to use your hydraulic car jack with ease and confidence, ensuring safety and protection of your vehicle.
Preparing To Use A Hydraulic Car Jack
Whether you are a seasoned mechanic or a beginner diy-er, knowing how to properly use a hydraulic car jack is essential for your safety. One of the most crucial steps in using a car jack is inspecting it thoroughly before use.
Check for any leaks or damages as these can compromise its integrity. Understanding the weight capacity is also important to ensure the jack can handle the weight of your vehicle. When choosing a location to use your jack, opt for a flat and firm surface to prevent it from sinking or tipping over.
Finally, ensure proper stability and support by using jack stands and wheel chocks to prevent your vehicle from shifting or falling. By following these tips, you can safely and effectively use a hydraulic car jack for your automotive needs.
Step-By-Step Guide To Using A Hydraulic Car Jack
Using a hydraulic car jack may seem daunting, but it's actually a simple process. Firstly, find a safe and level surface to park your car on. Then, place the jack under the designated jacking point – consult your owner's manual if unsure.
To raise your car, pump the jack handle up and down, and make sure it's steady before fully raising it. You can now perform your necessary car maintenance. When lowering your car, slowly turn the release valve in a counterclockwise direction.
As the jack lowers, remove it carefully from under the car. By following these steps, you'll be able to successfully use a hydraulic car jack for all your automotive needs.
Tips For Safe And Efficient Use Of Your Hydraulic Car Jack
A hydraulic car jack is a useful tool to lift your vehicle for maintenance and repairs. Before using the jack, it's important to understand your car's weight distribution to avoid any accidents. Regular maintenance and inspection of your jack will ensure it's in good condition to use.
Using jack stands for extra support is recommended to prevent the car from falling. When using a jack, avoid common mistakes such as placing it on unstable ground, lifting the car too high, or relying on the jack alone without additional support.
By following these tips, you can safely and efficiently use your hydraulic car jack and save money on maintenance costs.
Frequently Asked Questions Of How To Use A Hydraulic Car Jack
How Do I Use A Hydraulic Car Jack Safely?
To use a hydraulic car jack safely, park the car on a hard, flat surface, and engage the emergency brake. Place the jack in the "jack point" indicated in the car's manual, pump the handle until the car is lifted, and secure it with jack stands.
Do not work under a car just supported by the jack.
How Much Weight Can A Hydraulic Car Jack Lift?
Hydraulic car jacks are rated according to the maximum weight they can lift safely. Most hydraulic jacks can lift between 1. 5 and 3 tonnes – enough for most cars. To ensure your jack is appropriate for your car, check the manual or the weight of your car.
Can I Use A Hydraulic Car Jack On Uneven Ground?
It is highly recommended to use a hydraulic car jack on level ground, but if there is no choice, take extra care. Use a solid and stable base under the jack, like a plywood board, and lift one side at a time.
Adjust the height of the jack in small increments to avoid sudden movements.
How Do I Lower A Hydraulic Car Jack?
To lower a hydraulic car jack safely, put the jack stands in place to support the car. Then, turn the valve on the jack handle counter-clockwise to release the pressure. Make sure you do it slowly and steadily, and don't forget to remove the jack stand afterwards.
How Often Should I Maintain My Hydraulic Car Jack?
To ensure the proper functioning of your hydraulic car jack, maintain it at least once a year. Inspect it for visible cracks, leaks or damaged parts. Regularly lubricate the moving parts and keep the jack clean. If you notice any issues, take the jack to a professional for repair.
Conclusion
After reading this guide, it's clear that using a hydraulic car jack is a relatively straightforward process. While there are a few key considerations to keep in mind, such as finding a level surface and ensuring you've chosen the right lifting point, following the steps we've outlined here should help you get the job done safely and effectively.
Remember to always prioritize safety by using jack stands, chocks, and other equipment as needed. And, if you're ever in doubt, don't hesitate to consult your car's owner manual or a professional mechanic to ensure you're taking the proper precautions.
With these tips in mind, you should be able to tackle most basic car repairs and maintenance tasks with ease.