To get rid of lint in new towels, wash them separately in warm water with a cup of white vinegar and half a cup of baking soda. Towels are an everyday essential that require proper care to ensure a long life and optimal performance.
However, newly purchased towels often come with lint that leaves fibrous residue on your skin and in your bathroom. Lint also affects the towels' absorbency, making them less effective. Luckily, removing lint from new towels is easy and straightforward. By following a simple washing routine, you can eliminate lint and enjoy soft towels that are also good for your skin.
In this article, we'll outline how to wash new towels to get rid of lint, step by step.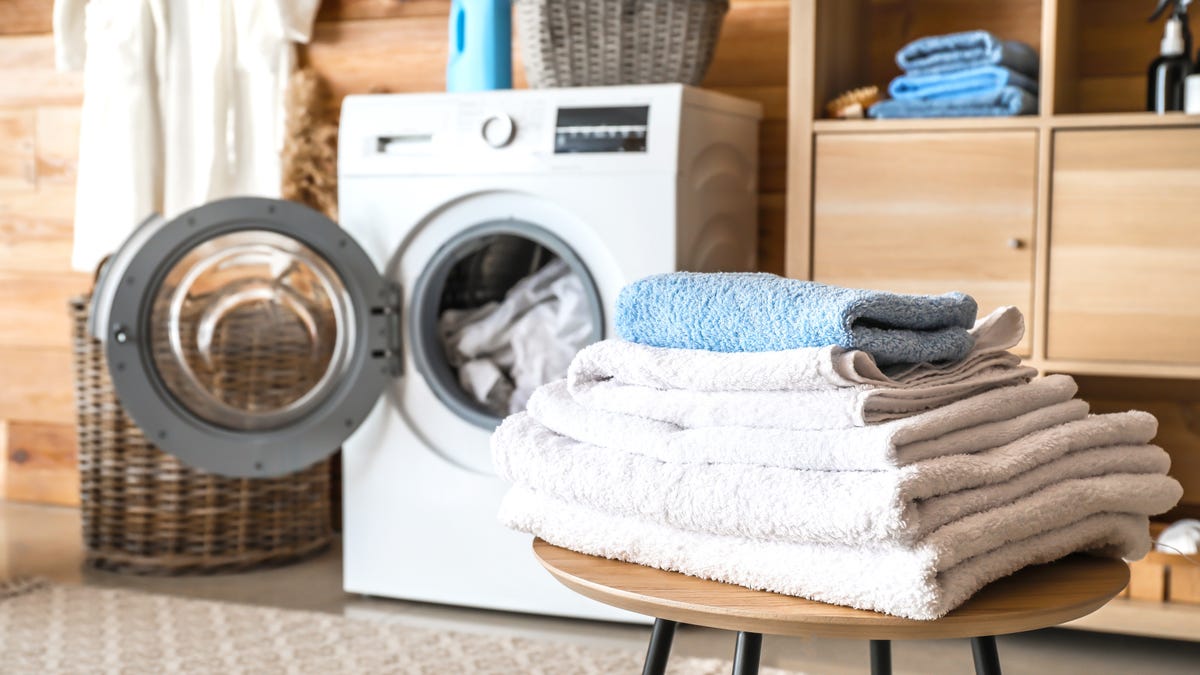 Credit: lifehacker.com
Understanding The Issue: Lint On New Towels
Lint on new towels can be a frustrating issue. It is caused by loose fibers from the manufacturing process. These fibers can stick to your skin and clothes, creating a mess. The best way to avoid this problem is to wash your towels before using them.
Washing new towels removes any loose fibers and excess dyes, making them softer and more absorbent. It also reduces the amount of lint shedding. To start, wash your towels separately from other laundry, using detergent and fabric softener. Use a gentle cycle and low heat when drying.
Avoid overloading the machine and shaking out the towels regularly during the drying process. Proper washing will ensure clean, fluffy, and durable towels for all your needs.
Preparation Before Washing
Before washing your new towels, it's important to properly prepare them. Begin by sorting your towels according to color to avoid any bleeding or dye transfer during the wash. once sorted, select the appropriate detergent for your towels to ensure a proper cleaning without damaging the fabric.
Consider using a fabric softener to help prevent any lint buildup and add a pleasant scent. For especially linty towels, use a pre-treatment solution to help loosen and remove excess lint before washing. By following these steps, you can help keep your new towels looking fresh, clean, and lint-free.
Best Techniques For Washing New Towels
Washing new towels is an important step to remove lint and improve absorbency. Machine washing is a quick and effective solution. Use half the recommended amount of detergent and an extra rinse cycle. Alternatively, try hand washing by filling a bathtub with cold water and adding a mild detergent.
Gently knead towels for a few minutes, then rinse several times with cold water. To prevent lint buildup, skip the fabric softener and hang towels outside to dry. If you prefer using a dryer, choose a low heat setting and add a clean tennis ball to reduce static.
Following these techniques will ensure that your new towels are soft, fluffy, and lint-free.
Special Care For Specific Types Of Towels
New towels may leave lint behind, but there are specific ways to wash different types. For bath towels, wash them separately and use vinegar during the first wash. Kitchen towels need hot water to remove any stains and bacteria. Microfiber towels should be washed with warm water only and air dried.
Delicate towels require hand washing and air drying to prevent any damage.
Frequently Asked Questions On How To Wash New Towels To Get Rid Of Lint?
How Do I Get Rid Of Lint On New Towels?
To get rid of lint on new towels, add a cup of distilled white vinegar to the wash cycle. Vinegar helps to break up any excess fibers on the cloth, which will reduce lint. Wash with hot water and a mild detergent.
Can I Wash New Towels With Other Clothes?
Yes, you can wash new towels with other clothes. However, separate colored towels from whites to avoid color bleeding. Be sure not to overload the washer, as this may cause your towels to become stiff and scratchy.
How Many Times Should I Wash New Towels?
New towels should be washed before use. It is recommended to wash them at least once or twice to remove any excess fibers, which reduces lint. Subsequent washings will also make the towels softer and more absorbent.
Can I Use Fabric Softener When Washing New Towels?
No, it is not recommended to use fabric softener when washing new towels as it can coat the fibers and make the towels less absorbent. Instead, use half a cup of baking soda or a cup of distilled white vinegar to the wash cycle to soften the towels.
Should I Dry My New Towels In The Dryer?
Yes, you can dry your new towels in the dryer. Use a low to medium heat setting in the dryer and remove the towels immediately when they are dry to avoid stiffness. You can also hang them outside to air-dry.
Conclusion
Now that you have gained knowledge on how to wash new towels to get rid of lint, you can make sure you keep your towels looking and feeling brand new. Remember to wash your towels separately, use a small amount of detergent, avoid fabric softener, and throw in a dry towel to help remove any excess lint.
Proper maintenance of your towels is important to prolong their life and ensure they remain absorbent and soft. By following these simple steps, you can ensure a better experience when using your towels. As a final suggestion, if you're experiencing persistent lint residue, try washing your towels a few more times until they are completely lint-free.
With these tips, you can now enjoy your freshly washed, lint-free towels!