There are numerous outside garage decorating ideas that can enhance the appearance of your home's exterior. Adding outdoor lighting, potted plants, a fresh coat of paint, and a decorative garage door are just a few options that can make a big difference.
Transforming your garage from a dull, uninspiring structure to a visually appealing part of your home's exterior can make a significant impact on your property's overall look and feel. By incorporating a few simple and cost-effective decorating ideas, you can transform your garage into a charming and welcoming space.
In this article, we will explore some popular garage decorating ideas, including lighting, landscaping, painting, and garage door design options. Whether you want to increase curb appeal or create a more welcoming ambiance, we've got you covered.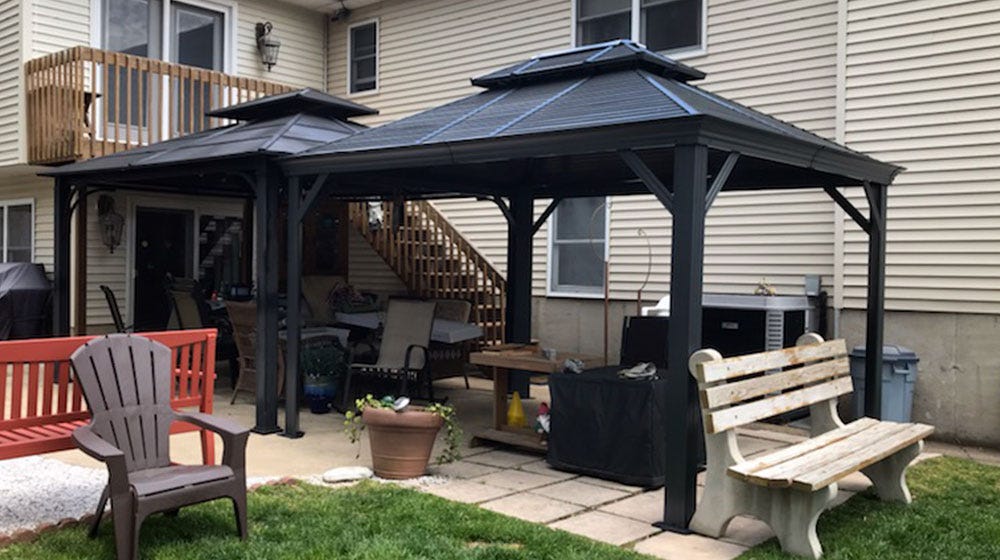 Credit: www.shelterlogic.com
Create A Focal Point With An Eye-Catching Garage Door
The garage door is often overlooked when it comes to decorating the exterior of a house, but it can be a stunning focal point that can seriously enhance the visual appeal of your home. Here are some ideas to transform your garage door into an eye-catching centerpiece that stands out:
Paint Your Garage Door With Bright Colors To Make It Stand Out
When it comes to revamping your garage door, a fresh coat of paint can work wonders. You could pick a color that complements your home's exterior or go all out and make a statement with a bold, bright hue. Here are some ideas:
Sunny yellow or orange for a fun, vibrant look
Navy blue to add elegance and sophistication
Shades of green for a more natural, earthy feel
Choose A Unique Garage Door Material And Design
The material that your garage door is made from can make a big difference in the overall look of your home's exterior. Opting for a unique design can truly make your house stand out from the rest. Here are some suggestions:
Wooden garage doors for a classic and rustic feel
Steel garage doors with intricate designs for a modern touch
Glass garage doors to add a sleek and contemporary vibe
Add Decorative Hardware To Enhance The Visual Appearance Of Your Garage Door
Adding decorative hardware to your garage door can provide an extra layer of elegance and character. There are endless design possibilities to choose from. Here are some examples:
Wrought iron hinges or straps for a traditional look
Sleek, contemporary handles for a modern feel
Decorative nails or studs for added texture and detail
Sprucing up your garage door can make a significant difference in the look and feel of your home's exterior. With a fresh coat of paint, a choice of unique material and design, and some added decorative hardware, you can create an eye-catching focal point that makes a statement and stands out from the rest.
Use Garage Lighting To Decorate Your Outdoor Space
Garage lighting not only adds beauty to your outdoor space but also provides safety and security. These ideas will inspire you to transform your driveway, garden, and patio into a well-lit, enchanting oasis.
Install Outdoor Lights Around Your Garage
Installing outdoor lights around your garage can create a welcoming atmosphere for guests and enhances your home's curb appeal. Here are some key points to consider:
Choose led lights that consume less energy, have a longer lifespan, and come in various colors.
Use motion sensor lights to deter potential burglars by alerting you when there is any activity outside your home.
Install solar powered lights to save on electricity bills and help the environment.
Use String Lights To Accentuate Specific Areas
String lights are an affordable and easy way to add a touch of magic to your garage decoration. You can use them to highlight specific areas, such as trees, doors, or windows.
Place string lights on your garage door to create an inviting ambiance and attract attention.
Intertwine the lights around trees, bushes, and signboards, providing excellent outdoor lighting solutions.
Use colored bulbs to add a pop of color and create a festive atmosphere.
Illuminate Your Garage Door For A Dramatic Effect
Illuminating your garage door can add drama and sophistication to your outdoor space, leaving a lasting impact on your visitors.
Install floodlights above your garage door to highlight its features and enhance its architectural beauty.
Place spotlights on either side of your garage door, shining on the entryway, creating a dramatic entry, perfect for special occasions.
Add pendant lights or chandeliers over your garage door to add charm and character to your outdoor space.
Garage lighting is an irresistible way to decorate your outside space while providing security and functionality. With the right lighting, you can create an inviting outdoor sanctuary that reflects your style and personality.
Incorporate Landscaping Around Your Garage
Plan A Garden Around Your Garage
Adding plants around your garage can enhance the overall ambience of your outdoor space. Starting your garden may seem like a daunting task, but with a plan, it can be a fun and rewarding experience. Here are some tips:
Determine the type of plants or flowers suitable for your region. You can consult a professional gardener or research online.
Choose a theme for your garden, such as a tropical paradise or a cottage garden. This will make it easier to select appropriate plants and decorations.
Consider the amount of sunlight, shade, and water the plants will require, and choose plants that fit your maintenance preferences and your garden's environment.
You can also incorporate hardscaping elements like stepping stones or decorative rocks.
Add Potted Plants To The Entrance Of Your Garage
Potted plants are an excellent addition to enhance the entrance of your garage. They work well for those who want a more minimalist look and want to avoid using large plants or gaudy decorations. Here are some tips to get started:
Choose the right pots that complement the style of your garage and your overall aesthetic.
Pick plants that are low maintenance – some examples include succulents, snake plants, or zz plants.
Use hanging pots to save space and create a unique display.
Add decorative stones or stands to make your plants stand out.
Use Hedges And Greenery For Privacy And Decoration
Hedges and other greenery plants can give your garage privacy and beautify your outdoor space. They create a natural fence that serves as a backdrop for your garden's aesthetic. Here are some tips to get started:
Choose the right type of hedge for the amount of space you have. Some types may become too big and overgrown, so it is important to research and consult a professional.
Use other greenery plants, such as shrubs or flowers, to create texture and color.
Incorporate a trellis or other decorative structures to support climbing plants like ivy or vines.
Make sure to maintain your plants regularly to avoid overgrowth and maintain a neat and polished look.
Adding landscaping elements around your garage can transform your outdoor space and add value to your property. By following these tips and guidelines, you can create a beautiful and practical garden that complements your garage's style and gives your outdoor space a serene, tranquil, and inviting feel.
Transform Your Garage Into A Hangout Spot
Garages are often overlooked as potential hangout spots, but with a little bit of creativity and effort, they can be transformed into an inviting and comfortable space that's perfect for entertaining guests or just relaxing with friends and family. Here are some tips for converting your garage into a hangout spot:
Convert Your Garage Into A Covered Patio
Remove the garage door and replace it with a large glass sliding door or french doors to create an indoor/outdoor space.
Install a roof or a retractable awning to provide shade and protection from the elements.
Consider adding a ceiling fan or other cooling elements to keep the space comfortable during hot weather.
Add Outdoor Furniture And Decor To Create An Inviting Atmosphere
Choose comfortable seating options like outdoor sofas, chairs, and ottomans.
Add a pop of color with outdoor throw pillows and cushions.
Hang outdoor curtains or install screens to provide privacy and a cozy atmosphere.
Decorate with outdoor rugs, lanterns, and plants to create a welcoming and relaxing space.
Set Up A Fire Pit Or Outdoor Grill For Entertaining Guests
A fire pit provides warmth and a focal point for conversation and relaxation.
An outdoor grill is perfect for cooking up delicious meals and entertaining guests.
Make sure to follow all local regulations and guidelines to ensure safety when using fire and grilling equipment.
By following these tips, you can transform your garage into a functional and comfortable hangout spot that's perfect for spending time with loved ones and enjoying the great outdoors.
Make A Statement With Garage Signage
Your garage is more than a space to park your car or store your tools. It can be a reflection of your style and personality. Adding signage to your garage exterior is an excellent way to showcase your unique flair and make a statement.
Here are some ideas to help you create stunning garage signage:
Create A Custom Garage Sign
Creating a custom garage sign is an excellent way to show off your individuality. You can design your sign to display your family name or showcase your car's make and model. Custom signs can be created in a variety of materials, including metal, wood, and plastic.
Bullet points:
Design a sign that suits your personal style
Make sure your sign is made of weather-resistant and durable materials
Use colors that will stand out and catch the eye
Use A Vintage Or Retro Sign For A Unique Touch
Vintage or retro garage signs are an excellent way to give your garage an old-school look and feel. You can find these signs in a variety of styles and brands, including classic car manufacturers like chevy and ford. Using a vintage sign is an excellent alternative to designing a custom sign.
Bullet points:
Look for authentic vintage signs
Choose a sign that complements your garage's overall style
Consider adding an aged effect to your sign to give it an authentic look
Add Lighting To Make Your Garage Signage Visible
An eye-catching garage sign is useless if it's not visible. Adding lighting to your signage is an excellent way to ensure it gets noticed. Lighting options include traditional spotlights, neon lights, and even solar-powered lights. This option is particularly useful if you like to work in your garage late at night.
Bullet points:
Choose a lighting option that complements your sign
Place your lighting in a position that illuminates your sign fully
Make sure any cords or electrical outlets are installed safely
Upgrade Your Garage Doors With Windows And Decorative Accents
Your garage door's appearance can have a significant effect on the overall appearance of your home. Consider upgrading your garage doors with windows and decorative accents to enhance your curb appeal. Here are some ideas to consider:
Install Windows To Allow More Natural Light Into Your Garage
Windows in your garage doors allow natural light to enter, making your garage feel brighter and more spacious. It can be challenging to work in a dark garage, and natural light can help you see better while reducing your energy bill.
Bullet points:
Windows can add value to your home.
You can choose from several types of windows, including traditional panel windows, long panel windows, and square panel windows.
Consider adding tint to the windows to help regulate the temperature in your garage.
Add Decorative Accents Such As Shutters Or Hardware
Decorative accents such as shutters or hardware can add an extra layer of style and personality to your garage doors.
Bullet points:
Consider adding hinges or handles to give your garage doors a traditional look.
Add decorative hardware that complements the style of your home.
Shutters are a great way to add more depth and texture to your garage doors.
Choose Unique Garage Door Panels For A Customized Look
Customized garage door panels can make your garage stand out and give it an entirely distinct look that matches your personal style.
Bullet points:
You can add wooden panels or metal panels to your garage door.
Customize a traditional steel panel garage door by adding overlays to create a unique look.
Short panel garage doors can give your garage a modern look.
By combining these tips, you can upgrade your garage doors with windows and decorative accents that will make your home the envy of the neighborhood. Remember to choose accents that match the style of your home, and you're sure to make a lasting impression.
Create An Inviting Entrance To Your Garage
Creating An Inviting Entrance To Your Garage
If you think that the entrance to your garage is just a utilitarian space, think again. With a bit of creativity and effort, you can easily transform it into a welcoming focal point of your home. Here are a few ideas to help you get started.
Use Pavers To Create A Pathway To Your Garage
A well-defined pathway leading to your garage can create a visual appeal that will leave a lasting impression on your guests. Here are some points to consider while creating a pathway to your garage:
Choose a paver design that complements the overall aesthetic of your home.
Ensure that the pathway is wide enough to easily navigate bicycles, strollers, and other equipment.
You can plant small trees or flowers alongside the pathway to add some natural beauty to the area.
Install A Pergola Or Covered Entrance
A pergola or covered entrance can add a touch of charm and elegance to your garage entrance. It also offers a functional benefit of protecting your car from the elements. Here are the key points to consider while installing a pergola or covered entrance:
Measure the area where you plan to install the pergola or covered entrance to ensure the dimensions are accurate.
Choose a design that complements the architecture of your home.
Ensure that the pergola or covered entrance is strong enough to withstand harsh weather conditions.
Add Seating And Decor To Your Garage Entrance
To create an inviting atmosphere, consider adding comfortable seating and decor items that reflect your personal style. Here are some tips to keep in mind:
Choose outdoor furniture that is both comfortable and durable.
You can add decor items such as potted plants, wall hangings, or welcome signs to personalize the area.
Consider installing outdoor lighting to create an inviting ambiance during the evening hours.
By following these simple yet effective outside garage decorating ideas, you can easily elevate the look and feel of your garage entrance and create a welcoming space for all of your guests.
Incorporate Rustic Elements To Your Garage
If you're looking to add character and charm to your garage, incorporating rustic elements could be the perfect solution. Rustic design features weathered wood, distressed metals, and natural materials that add warmth, texture, and character to your space. Here are a few ideas on how to incorporate rustic elements into your garage:
Use Reclaimed Wood For A Diy Garage Door Project
Using reclaimed wood for a diy garage door project is an excellent way to bring that rustic vibe to your garage. Unleash your creativity and give your garage door some oomph. Here are a few tips to make sure your diy project turns out perfectly:
Choose the right wood: Choose reclaimed wood that is weather-resistant and sturdy to ensure longevity.
Measure twice, cut once: Accurate measurements are essential for a perfect fit. Make sure to double-check your measurements before starting to cut.
Seal and treat the wood: Seal and treat your wooden garage door to protect it from the elements. You can also stain or paint the wood to complement your garage's decor.
Add Rustic Fixtures And Hardware
Adding rustic fixtures and hardware is another great way to accentuate your garage's rustic design. Rustic fixtures are typically made from distressed metals, such as wrought iron, copper, or brass. Here are a few ideas for rustic garage fixtures and hardware:
Garage door handles: Choose handles made from distressed metal or wrought iron. They provide an excellent contrast against wooden garage doors.
Lighting fixtures: Rustic lighting fixtures are also an excellent addition when trying to create a rustic ambiance in your garage. Hanging pendant lights and vintage-looking sconces can look incredible in a garage.
Hooks and hangers: Add hooks and hangers made from sturdy metals to hang tools or decorations. Black metal hooks can look great against wooden walls.
Use Stone Or Brick Accents To Enhance The Natural Elements
Using natural elements like stone or brick can give your garage that "rustic meets modern" style. Faux brick panels or stones are easy to install and create the same effect without the high cost. Here are a few ideas on how to use stone or brick accents in your garage:
Create an accent wall: Use brick or stone to create an accent wall, adding depth and texture to your garage's design. This is an excellent way to create a focal point in your garage.
Stone fireplace: If you have unused space in your garage, you can create a cozy and warm sitting area by adding a stone fireplace.
Stone planter boxes: Use stone planter boxes to create a garden in your garage, adding natural elements to your space.
Rustic elements are an excellent way to add a cozy and inviting feel to your garage. Whether you're going for a modern rustic design or a rustic farmhouse look, these decorating ideas will set the tone for your space and take it from bland to beautiful.
Incorporate Smart Home Technology To Your Garage
Garages are more than just a space to park your car these days. They can easily become an extension of your home, an oasis even, with just a few upgrades. To make your garage even more efficient, now is the time to incorporate smart home technology that can save you time and energy while enhancing its functionality.
Install A Smart Garage Door Opener
A smart garage door opener adds to your home's automation and also offers a plethora of benefits. Here are some key points to note:
A smart garage door opener allows you to open and close the garage door from anywhere using a mobile application, providing secure access to your garage.
Some models come with sensors that prompt the door to close automatically after a set duration when it has been left open, eliminating any safety concerns.
With its compatibility with amazon alexa, google assistant, or siri, voice commands enable you to open or close your door even when you have your hands full or when you are still driving up to your garage.
Add Motion Sensors And Cameras For Improved Security
Installing motion sensors and cameras is essential to beef up your garage's security. Here are the advantages:
Motion sensors can detect any signs of movement in your garage and send alerts to your phone if there is any suspicious activity. Some smart sensors are even smart enough only to detect the movement of humans and not that of pets, saving you from false alarms.
A camera system allows you to keep an eye on your garage remotely. You can view live footage or recordings when an alarm goes off to see if there is any cause for concern.
As a result, motion sensors and cameras make it easier to identify burglars in the event of a break-in.
Use Voice Command To Control Your Garage Door
With voice commands, you can open or close your garage door without having to leave your car, even if you are halfway up the driveway! Here's why voice commands are an excellent choice:
Voice control is possible through a compatible smart speaker, such as amazon alexa or google assistant, or a smartphone's digital assistant, such as siri.
Besides convenience, voice command ensures that your hands are always free, and you can safely park your car without having to fumble with your garage door opener.
Lastly, using voice commands to control your garage door adds another layer of security as only recognized voices can trigger the garage door to open.
Use Garage Storage To Your Advantage
Garages are often viewed as a storage space for old junk and unused household items, but it doesn't have to be that way. With a little effort and creativity, you can transform your garage into a functional and organized space.
Garage storage is an excellent way to maximize storage and make the most of your space. Here are some ideas to help you get started:
Install Wall Storage For Tools And Equipment
Wall storage is an excellent way to organize your tools and equipment and keep them within easy reach. By installing wall storage solutions, you can free up valuable floor space and keep your garage clutter-free. Here are some wall storage ideas for your garage:
Pegboards: Pegboards are an inexpensive and versatile way to organize your tools. You can hang everything from hammers and screwdrivers to power tools and gardening equipment.
Magnetic strips: Magnetic strips are perfect for storing metal tools. They are simple to install and keep your tools organized and visible.
Wall racks: Wall racks are a great way to store bikes, ladders, and other bulky items. They keep your garage floor clear while storing your items securely.
Use Shelves And Bins For Seasonal Storage
Seasonal items such as holiday decorations, sports equipment, and gardening tools can take up a lot of space in your garage. Shelves and bins are a great way to keep these items organized and out of the way when not in use.
Here are some tips for using shelves and bins:
Install sturdy shelves: Sturdy shelves can hold heavy items and keep them organized.
Label bins: Labeling bins makes it easy to find what you're looking for.
Group items together: Group items together based on season or activity. For example, store all your winter sports equipment together.
Use Garage Cabinets For Additional Storage Space
Garage cabinets are an excellent way to create additional storage space and keep your garage organized. Cabinets can be used to store everything from tools and hardware to cleaning supplies and household items. Here are some tips for using garage cabinets:
Use tall cabinets: Tall cabinets can provide maximum storage space while taking up minimal floor space.
Add shelves: Adding shelves to your cabinets can help you create even more storage space.
Organize items by category: Organize your items by category to make it easy to find what you're looking for.
By using these garage storage tips, you can transform your garage into an organized and functional space. With a little effort and creativity, you can maximize storage space and keep your garage clutter-free.
Frequently Asked Questions On Outside Garage Decorating Ideas
How Do I Decorate The Outside Of My Garage?
There are several ways to decorate the outside of your garage. Consider adding a fresh coat of paint, installing outdoor lighting, hanging decorative signage or artwork, incorporating plants or a vertical garden, and using outdoor seating or patio furniture to create a functional and inviting space.
What Are Some Popular Color Schemes For Garage Exteriors?
Popular color schemes for garage exteriors include neutral shades like beige, gray, and white, as well as bold colors like red, blue, and green. Consider the overall style of your home when selecting a color scheme, and choose colors that complement or contrast with your existing exterior palette.
How Can I Make My Garage Door More Attractive?
There are many ways to update and enhance the look of your garage door. Consider adding decorative hardware like handles or hinges, painting the door to match your home's color scheme, or upgrading to a custom door with unique design elements.
You can also add a pergola or awning above the garage door to create a stylish and functional entrance.
Conclusion
Overall, decorating your garage exterior can be a fun and exciting project that not only adds value to your home but also enhances its overall curb appeal. You can use a variety of techniques, such as painting, adding custom garage doors, installing lighting fixtures, and even integrating some greenery to create an inviting and stylish entry point to your home.
It is imperative to keep in mind that the style and design of the garage must complement the architectural design of the house. Choose colors, textures, and details that complement the exterior of your home and reflect your personal taste.
By following these tips and ideas, you can create a beautiful and functional outdoor space that adds value, style, and practicality to your house, all while impressing your neighbors and guests. Get creative and start transforming your garage exterior today!